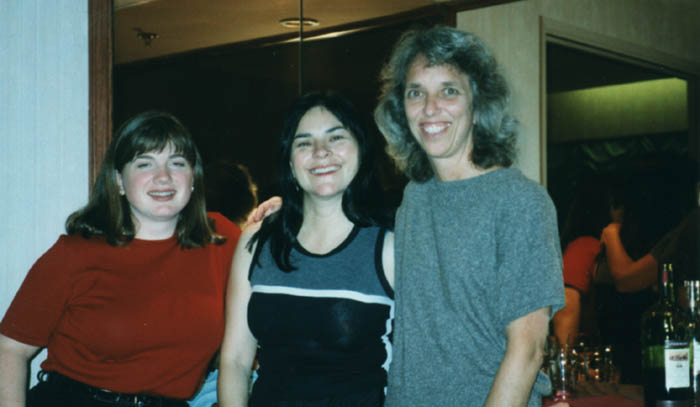 Hope, Diana Gabaldon, Charyl
Lady Charyl:
Just One Hoser's Perspective
"You're going to do what?" I heard this question repeatedly from my non-hosed, Diana Gabaldon illiterate friends and family. "You're going all the way to Seattle and Vancouver to meet people you don't even know? People you met on the internet?" You're going to stay in their house with them, too?"
"Yes," I replied.
"But, but, do you think that it's safe?"
With that vote of confidence from my loved ones, I boarded the plane on Tuesday and headed west.
I was met by Hope in the Seattle airport and the fun began. First off, Hope felt that surely I needed to get some exercise after that long flight, so shortly after we began driving she let loose with the right front hub cap, and "suggested" that I go chase the thing down. Next she wanted to have herself photographed with every red-headed lad in Seattle, so off we went. Hope is a wonderful tour guide. She even showed me the bar in the oldest restaurant in Seattle, from which we were seen staggering out (I am such a liar *g*)
Oh, BTW, one of the first things Hope asked me was if I wanted to get a tattoo *g*. We also looked high and low for a palm reader, but no luck.
Wednesday I traveled up to LOL headquarters AKA Judie's house. When I got to the Canadian border, the customs officer grilled me with questions. What did I do, I wondered. "Where are you from? How did you get here? What's your occupation (Stupid man. He didna know what a hoser was)? Is that a rental car? Where are you going? Where are you staying?" To that question I answered that I would be staying with friends. The questions resumed with, "How did you meet this friend?" I answered, "Um, on the internet." Have you ever seen anyone's eyebrows rise to meet their hairline? Now the serious questions began. "What does your friend do?" Yikes! What is it that Judie does.... "Um, she makes lots of hosers very happy?" I had to dig out every piece of ID I had, the rental car agreement came out, the car was inspected. All in all I felt quite special. Another magic moment to treasure.
A knock on Judie's door was met by Tamara, little Judie (man! is she a sweetie), and a loud yell for Mom. Judie came down the stairs, and it didn't take us long to get hosed (Lord Rick is a great guy with equally fine facial hair). We later took off for a drive. Saw the waterfront area, took some pictures, yak, yak, yak - Great fun! Back to the house for dinner, then picked up Kim Marie, who is a delightful first class hoser, and more touristy driving. Did you know that Judie honks for squirrels? She honks not just to warn them but to say hi. We stopped at Starbucks (Judie haunts these places), and spent more time in hoser conversation.
Thursday evening - I'm sooooooo excited!!! Lorri arrives at Judie's house. Whoa! What a hoser she is. Where the h*ll are you Lorri? You promised to become a regular on the board. I bet she really does already have a tattoo somewhere. Funny lass, for sure. We picked up Kim Marie and with Judie driving (still honking at squirrels) we (Judie, Tamara, Lorri, Kim Marie and I) headed toward Surrey and our meeting with Herself.
Oh Big Bummer! Diana's plane did not take off due to mechanical trouble. Diana won't be at the book signing. The people at the book store tell us that she may not even be here until sometime tomorrow. Talk about long faces in our crowd. Disappointment big time. But me? I'm about ready to sh*t a brick, because I am also aware (along with Hope and Kate who are awaiting our arrival in the Penthouse suite) that Diana was going to join our party with Kiltboy. ARRGH! What to do?
We all waited around the bookstore for a bit, accosting every young person that passed our way. "Are you Mandy? Are you Faith?" "Yes," answered one young person. So I introduced myself, and said the other ladies are waiting for you, and let's go up to the Penthouse with Hope. At which point she gave me a verra strange look. She mumbled something about not going anywhere. I questioned her again, and decided I need a hearing aid. Her name was not Faith but Faye, and poor Faye was not a hoser.
If Diana wouldn't be able to sign our books, then we decided to have our own book signing. Kim played the role of Herself, and sat down at a table. Lorri sat down across from her and had her book autographed. This hoser activity went on long enough that we had some very hopeful people eyeing us. It seems they thought that Kim really was Diana and were waiting for all of us to leave so they could approach 'Diana' with their books. Well, it was my night for verra strange looks as I broke the bad news to our audience. The big positive about our hanging around was that we recruited a new hoser, Hedy. What luck for us all.
Finally, after leaving a message for Mandy and Faith, we left the mall, and went to the Penthouse. I'm still having very quiet tizzy fits, over the Kiltboy without Diana scenario. "Hooooope!" my mind was screaming. "What are we going to do?"
Hope and I immediately went for a stroll (leaving poor Kate and her Mom as hostesses) to the front desk to talk about re-structuring the evening, got that worked out, then went back to the room determined to do whatever it took to turn disappointment into a hosed festive occasion. Hope began by telling about her experience on the Oprah Winfry show. I have to tell you that Hope was really terrific in lifting everyone's spirits. She provided just what the doctor ordered in the way of hoserosity! Kudos to Hope!
We are all here and getting acquainted. Meeting everyone in person is a real hoot. We already "know" each other, but we have never met. It's a very interesting experience, ye ken? Hope left a message for Herself at the front desk inviting her to join us no matter what time it was. Meanwhile, we partied on and those of us in the know awaited the arrival of Kiltboy. The phone rang, Hope answered and put on a real good show that she was talking to the dh, when in reality she was speaking with ....... KILTBOY! She whispers to me that he's on his way. Hehehehe, so cool!
There is a knock on the door. The plan was for me to act startled and answer the door, while Hope started the music. So, I open the door expecting to greet our kilted lad, but instead there stands Diana. I was stunned into silence - could not find my speech for the amount of time it took my brain to align reality with my expectations. I glanced back toward Hope, thinking frantically. But, at this point I was a few crayons short of a box. Finally, I let out a big hoot (and got yet another verra strange look) and assured Diana that she was in the right place and welcomed her into the room with hoser hospitality.
We began chatting again, this time with Diana working the room. Diana wanted a tall glass of water to quench her thirst and then proceeded with the wine. Within 10 minutes there was another knock on the door. I answer and tell Kiltboy that he is in the right place and let him in (Dare I say that I was tempted to step outside the room with him and close the door? Nah. I wouldn't dare say that). Kiltboy puts on a good show, acting as a misplaced time traveler lad from the past. He looks GREAT! He glances around and asks, "What year is this?" He wanders to the window and parts the curtains with his sword, turns around and looks astounded at all the cameras and asks us what these things are as they are busy flashing away. Too funny. Then the strip begins. Judie said when Kiltboy walked into the room, "That's not a stripper is it?" She appeared truly appalled and she really gave me a start for a moment. Judie was fine though once she realized that Diana knew all about it. Judie tried to blend into the wall. Diana was smiling and enjoying herself. Hope was grand, Faith got cornered by Kiltboy and seemed to like it. Kate was not shy, Lorri got quiet and did not want to give him the money due to his sweaty bod. Tamara was given the assignment of watching her Mom and taking as many pictures as possible. Kim was the real bold one - no shyness there, (hehehe Kim). I was busy taking pictures. Kiltboy did come up to me and "made" me remove his shirt. Very nice bod! He was a real good sport. Hope, Kate & I were the only ones who knew that Kiltboy was going to hang around with us for a while and there was a bit of comedy watching the other ladies while they wondered why this guy was still here. Too funny. After he departed we all chatted with Diana. Did you know that she and Doug met while playing French horns in the marching band? She told us stories about her family. She was very generous with her time. We gave her gifts. She opened the dragonfly box and immediately put the pin on. She opened the book that Judie made of all our letters to Diana, and the full LOL introductory pack, and began reading them. After Diana departed we sat Judie down for her turn. She opened her gift. She elected to read the letters from her hoser fans at a later time. It was very early in the morning when we left Hope and Kate's room.
The next day, Hope, Kate, Judie, Kim, Tamara and I gathered together for lunch. We re-lived the previous evening's events and had a grand time. Hehehehe! Guess where we went next? But you all already know this, no? What you may not know is that two other hosers were a hair's width away from also getting tattoos. They have committed for next year.
Meeting Herself and spending time with her was a wonderful experience. She is a genuinely nice person, and I will never forget that memory. The real treasure for me, however, was meeting my Lallypals. Each is a very special person, and I am so glad I had the chance to meet them. (Kate, I havena seen you on the board much, and you promised along with Lorri :)
Finally, I can verify *g*, that our leader, Judie, is as wonderful as she seems. She is definitely a class act, and we are so lucky to have her as our Number One Hoser. Judie is a real Lass with Class.
That's my story and I'm sticking to it. - Charyl